HOME
> Society ContributingSociety

We are proud to be involved in the Shared Care Provider Network and One Hundred Cherry Tree Views Project as our way of contributing to social welfare and the natural environment in the hope of creating a spiritually rich society.
1. Helping carers help each other. The Shared Care Provider Network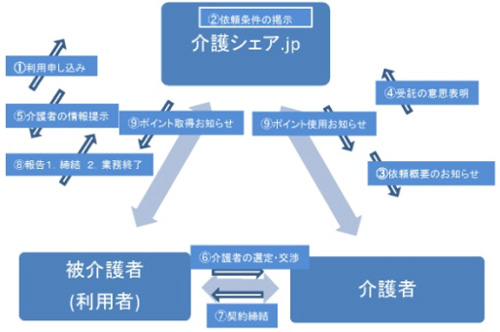 The Shared Care Provider Network is a movement which serves to provide a "helping hand" for domestic carers (especially male carers) in the local community. The network consists of former and future home care providers who offer nursing care and assistance on a voluntary basis so as to lessen the physical, psychological and financial burden of nursing care and care providing.
Those registered in the network are granted points according to the length of time spent engaging in nursing care and domestic services. For example, one point is awarded for sweeping the yard for one hour. That point can then be used in the future for nursing care services provided to oneself or one's own family. In this way, a system is created where former and future home care providers are able to provide nursing and care to others within the network, reducing nursing care times and financial burden so that those currently engaged in domestic care services can rest adequately and seek out employment opportunities as needed.
In former times, there had been a mutual care-providing system in place in Japan, with large families and the community maintaining strong bonds. The Project hopes to combine local wisdom and IT within that framework in order to introduce this system anew and create a nationwide network.
---
2. A cherry tree view in your hometown. The One Hundred Cherry Tree Views Project
A cherry-tree view in your hometown.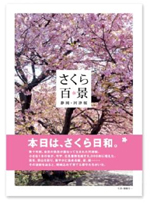 If every member in the local community could lend a hand in helping to increase the number of venues where the beautiful sight of cherry tree blossoms might be enjoyed – imagine just how lovely our natural environment could be. While we might often be quicker to take notice of grander, more popular or more historic cherry tree groves, the beauty of cherry blossoms can also be found in the fact that they are the result of a joint effort from the hands of the local community. The One Hundred Cherry Tree Views Committee was formed by a group of volunteers with precisely this conviction in their hearts, in order to focus their efforts towards the quietly dedicated activities of cherry tree conservationists in the local community, and offer their support.
*These cherry tree conservationists include not only specialist and professional organizations but individual enthusiasts as well.
The One Hundred Cherry Tree Views Committee
Members of the One Hundred Cherry Views Committee include like-minded individuals and businesses, photographers, graphic designers, publishers, photograph galleries, the Yaesu Book Center as well as other bookstores.
---
Project 1: Kawazu Cherry Blossoms, Shizuoka Prefecture
Reborn through countless lives subject to chance and transmigration, this stretch of land in Kawazu is now spread with some 8,000 Kawazu cherry trees. A driving force behind the successful growth of these trees has been the Kawazu Flowering Cherry Conservation and Propagation Promotion Committee, and we are a proud supporter of this organization.
The One Hundred Cherry Tree Views photobook (featured) introduces these cherry blossoms and the activities that center on them, as an expression of our spirit of support in print form at 500 yen each; 1% of sales proceeds are donated to the Committee. In effect since 2009.
One Hundred Cherry Tree Views
Prologue
Visitors can enjoy a wave of Kawazu cherry blossoms beginning to flower in southern Izu as early as late January. They are said to be a natural hybrid between the Formosan and Oshima varieties of flowering cherry, and are more vividly red than the well-known Yoshino species.
Their name derives from the town of Kawazu here, whence they are believed to have originated, and where some eight thousand specimens vie for full bloom glory. Beneath this dazzling canopy of flowers, people have come with packed lunches to soak in the wonderful sight. These seemingly flawless cherry blossoms have all been carefully assessed and ranked in order of might as sumo wrestlers are by these lovers of flowers as they dart and skim from flower to flower like so many butterflies.
Please click here
for reading more details.
---
Project 2: Hiroshima, Miyajima, Kochi, and Fukushima Prefectures, and more
Writer / Photography
2007-2008

IMAGE
---
Project 3 Yamagata's Cherry Tree Corridor, Iwate and more
Writer / Photography
2009

IMAGE
---
Project 3 Aomori's Hirosaki Park
Writer / Photography
2009-2010

IMAGE
---